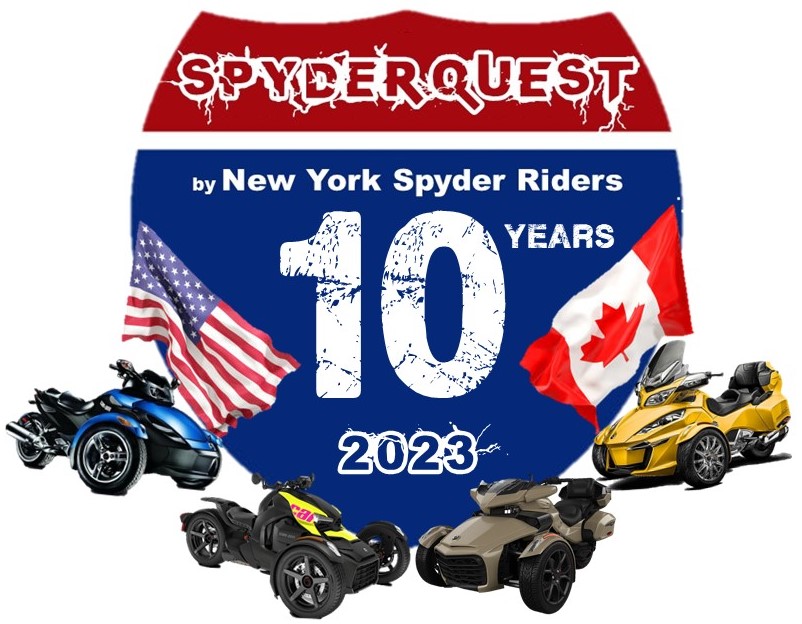 SpyderQuest 2023
Can Am – Spyder/Ryker Rally
in Queensbury/Lake George, NY
The dates for SpyderQuest 2023 : Sept 5th – 9th
GEL( Great Escape Lodge) will again be the Host Hotel (Entire Week Rooms Sold Out)
http://www.sixflagsgreatescapelodge.com Phone- 518-824-6000. In order to get the special rate, you must also be registered for the SpyderQuest event.. If GEL is sold out there are many other local hotels and campgrounds in the surrounding area.
Back up hotel is officially available.
Home2Suites – Queensbury NY , Spydequest pricing of $129 a night. Click the link below to go to their site
https://urldefense.com/v3/https:/www.hilton.com/en/book/reservation/deeplink/?ctyhocn=GFLHTHT&groupCode=CHTSPY&arrivaldate=2023-09-04&departuredate=2023-09-10&cid=OM,WW,HILTONLINK,EN,DirectLink&fromId=HILTONLINKDIRECT;!!Ae4TugITSuw!61gjjOwVtqCcZ8w7LyRuYSjcF2nWx0_-8xDjdVxr8iI6cB0R-LRkE-p9xrsmg9q2qzQBgJSe0wwxvCk8LGyShoQ$
SpyderQuest event registration will be opening April/May , 2023.
Meet and Greet will remain on Wednesday and is being held in the lobby of GEL. Enjoy finger foods and hanging out with your fellow Spyder Riders. Cash bar will be available of course to help you mingle outside of your normal circle of friends.
Opening Ceremony is Thursday, in the ballroom Downstairs at GEL. Formal sit down buffet style dinner with a cash bar. Tons of freebies and other giveaways throughout the night. Photo booth and DJ for some dancing and fun.
Closing Ceremony will be at the theme park across the street from GEL under one of their pavilions. Another nice buffet style dinner. Lots of fun with Farkle bingo, throw out give aways, penny auctions and just a great time. Enjoy the fun time with the new friends you have met during this years Spyderquest.
Another thing GEL has made available is the Indoor Water Park, to everyone with a SpyderQuest 2023 lanyard (that's right, this year you don't have to be a guest of GEL to get in, anyone with our lanyard can use the indoor water park that day. How great is that?
Oh and don't forget about the riding. We will have many new rides this year, along with our reoccurring favorites! Or if you don't want to go on one of our toured rides try the Scavenge hunt game. Explore the area at your own pace scoring points by finding special location, taking selfies with sculptures and answering fun questions. Winners will get some nice prizes. – Free to play
The rides at Spyderquest are very poplar and book up fast. We are trying to accommodate everyone with guided rides, self guided ride options and the scavenger hunt.
As we finalize things, we will keep posting. Keep checking in to see what's new
By submitting your online registration, you are accepting the terms and conditions contained on the Waiver Release From.
———
How we run our rides.
We use Ride Captains, who will lead the rides and we use a tail gunners to help keep the rides together. Watch the video below to see what we need you to do. We have been doing this for many years and as long as everyone does their part the rides go flawlessly.